What is the weight of your forklift? It can be important to know how much it weighs when transporting the machine or when operating it on a weight-sensitive platform. If your forklift is too heavy for these activities, it could cause serious injury and be extremely costly for your company.
It's important to note that the service weight of a forklift is not the same as its lift capacity. Service weight is the combined weight of the forklift and any attachments it may have. The easiest way to find the weight of a forklift is to check its data tag. You can also look on the forklift manufacturer's website for product specifications.
How Much Does a Forklift Weigh?
Generally, forklifts will weigh double their lift capacity. So, if a forklift can safely lift 4,000 pounds it should weigh around 8,000 pounds. Below, we've listed the weights of some commonly used brands: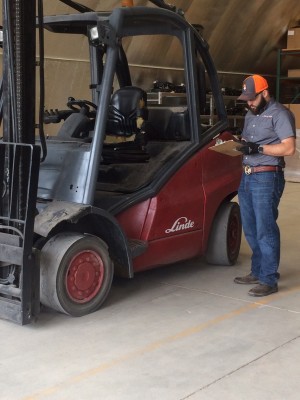 Hyster H50FT: 8,925 pounds
Toyota 8FGCU25: 8,000 pounds
Caterpillar C5000: 8,160 pounds
Yale GLC050: 9,015 pounds
Following the general rule of thumb we mentioned earlier, you can assume the lift capacity for these machines is half their service weights.
What OSHA Says
It's a good idea to check OSHA for any applicable standards and regulations when researching your machine. They've outlined specific standards for the usage and modification of any industrial vehicle. When adding attachments or modifications to your vehicle, OSHA says,
"Modifications and additions which affect capacity and safe operation shall not be performed by the customer or user without manufacturers prior written approval." (29 CFR 1910.178(a)(7))
These regulations will keep you safe and in compliance with proper safe operations. It's always important to follow OSHA standards when operating any machinery.
For additional information on forklift safety, check out our training. Or for other training information, head over to our homepage.
Good luck and stay safe!