We were somewhat surprised to hear about a construction employer who recently received a 30-day prison sentence for violating federal fall protection standards. It can be easy to find fault with OSHA when they hand out penalties, but it's harder to excuse this particular employer for not having a safe workplace.
Why Such a Strict Penalty?
One of the employees suffered a fatal fall at the construction site of a new home in Naples, Florida. (Original Story) While we don't have all the details of the report, we know that the employer didn't ensure the use of fall protection systems and didn't train his employees to recognize potential fall hazards.
Fall Protection Gear
While fall protection gear may be cumbersome, it constitutes the most essential safety equipment for working at heights. Employees working 6 feet or higher off the ground are required by law to wear fall protection gear (OSHA). You may find yourself in work conditions that don't require full fall protection, but we still recommend donning it for added safety.
Fall protection gear includes three main components: anchorage points, bodywear, and connective devices. Anchorage points are crucial in stopping your fall. They are load-rated and must be capable of supporting at least 5,000 lbs. per employee attached. In your work, you will come across permanent anchor points, temporary anchor points, and lifelines. Bodywear may change based on the task you're performing. The most common types of bodywear are full-body harnesses and body belts. Connective devices vary, but you will likely see snap hooks, lanyards, and self-retracting lifelines used to connect your body wear to anchorage points.
Fall Hazards
Fall protection violations have consistently ranked number one over the years in OSHA's top ten most-cited violations. Wearing fall protection gear is such a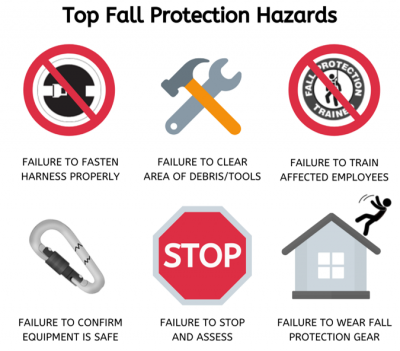 simple thing, but it can literally save your life.
To avoid falls (and potential penalties), observe these guidelines in your workplace:
Stop and assess your job environment
Fasten your harness properly
Train affected employees
Confirm all equipment is in safe condition
Clear work area of tools, debris before working
Wear complete fall protection equipment
This eye-opening case reminds us to spend the extra money and take the extra time to train employees on fall protection, especially regarding the hazards in your workplace. Facing OSHA penalties, including jail time, will cost your company far more. In this instance, it cost a man his life.
If you need more information on fall protection training, visit our website. We offer a number of fall protection training options to suit your needs:
Good luck and stay safe!